Best selling author
Passionate about story telling.
Author of small town and rural romance novels.

Love a good story. There are no bad stories.
Every person and every place has a story to tell.
Do you drive by old homes and wonder about the lives of those that built them, lived there, loved and lost?
Writers tell such stories. Sometimes real, sometimes imagined. Often both.

Susan Mackie, Queensland, Australia
The Bee Whisperer
The third novel in the Barrington Series

School term begins with a massive bee swarm.
Principal Alex Macintosh needs help and Ayla Forrest arrives at just the right time. But what she does next blows him away.
Ayla is seeking a sign. An indication the community will accept her, and her daughter Skye.
Alex is fascinated by the newcomer and keen to know more, but he has his own daughter to consider.
Young builder Harry Stewart has his sights set on Ayla too and makes sure she knows it.
Will she be drawn to either of them?
The Bee Whisperer's appearance in Barrington has tongues wagging and the small-town rumour mill working overtime. Settle in for Ayla's journey - with a cast of colourful characters, this story will tug on your heart strings and make you laugh out loud.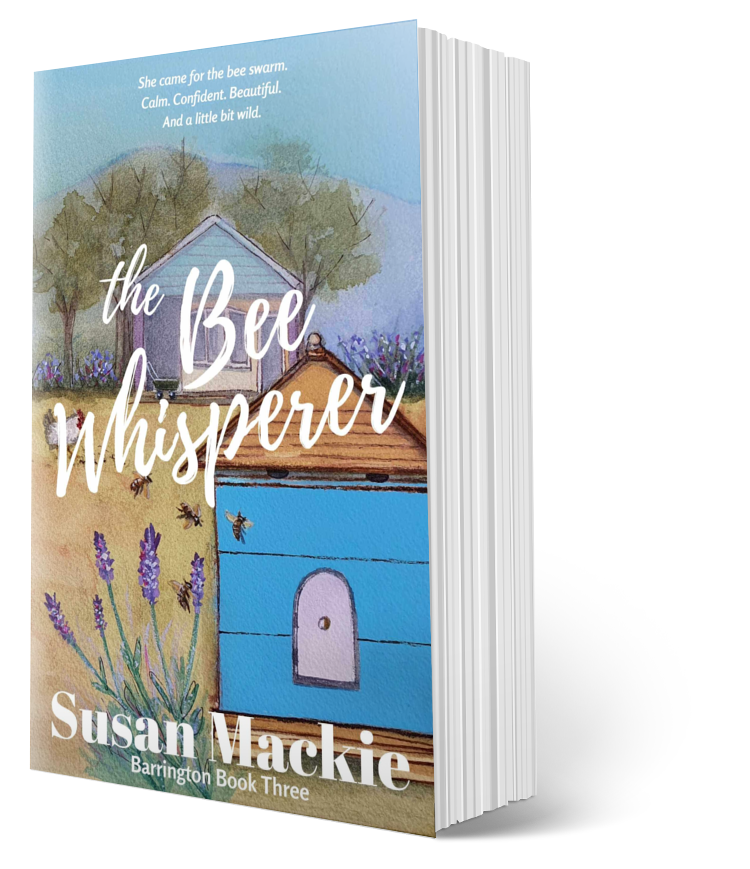 Meggie & Max
Barrington Series - Novella Two


He's the new Vet with something to hide.
She's got a wedding to organise.

Meggie's in Barrington for her brother's wedding, local Vet Angus Hamilton. After working overseas for years, she hasn't told her family she's not going back.
And she hasn't told them why.
Max is the Locum Vet hired to help out in the lead up to the wedding and during the honeymoon.
But he doesn't arrive alone.
They each need to move on from their past. When their secrets are revealed, will it empower them, or tear them apart?
Love in a Sunburnt Land Volume Two
Another five engaging stories from the authors who brought you Sunburnt Land One; Susan Mackie, Rhonda Forrest, Louise Forster, Leanne Lovegrove and Emma Powell.
Five 'single dad' stories that will move you to tears, laughter and leave you just a little bit breathless.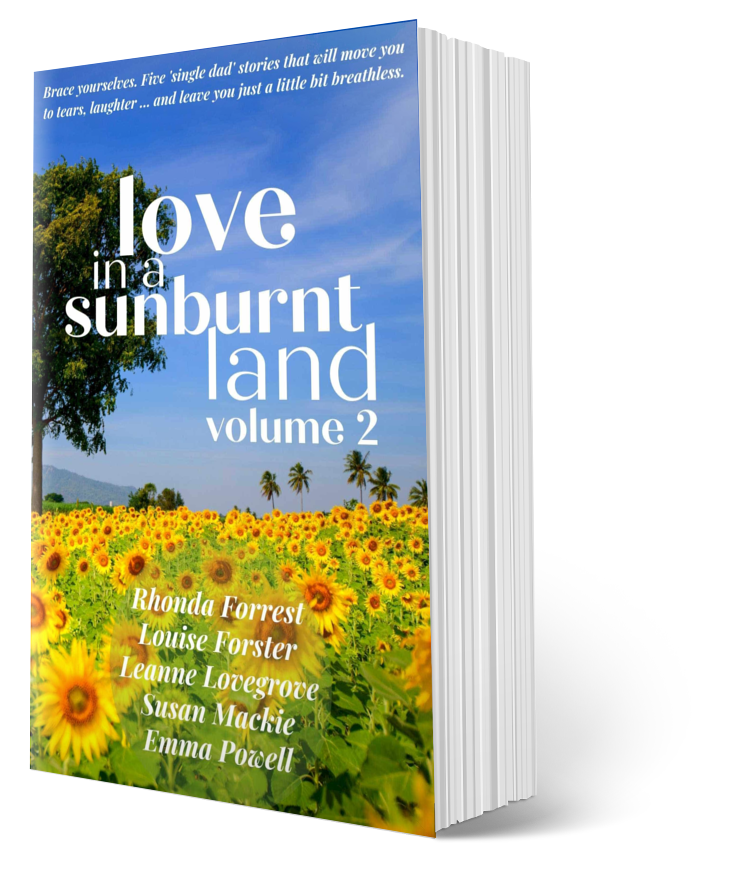 Charlie's Will
Amazon best seller
Barrington Book One


"A lovely rural drama with plenty of romance and steam..."
Mandy White, Australia.

Rose Gordon knew the farm would be hers when her grandfather died.
Strong and sassy, Rose is the sole heir to five generations of cattle country and the magnificent Barrington Homestead.
But Charlie's will is not as she expects and the appearance of Angus Hamilton on the day of the funeral unsettles her. Handsome and single, she's attracted to him. But can she trust him?
The ongoing drought and discovering she has friends, if not family, in the small rural community complicate matters.
More sinister threats lurk in the shadows.
Will Rose give up city life to face the threats head on and fight for her inheritance?
A Place to Start Over
Amazon Best Seller
Barrington Book Two.

"the warmth ... of the characters flows from the pages like melted butter on toast."
Mandie, Australia @allbookedout_with_mj

Can one bad decision change your life?
While recuperating from her biggest mistake, Harriet's had time to plan a fresh start, away from the city.
With a business plan on her laptop and determination in her heart, she leaves Sydney, heading north. It's a long drive and she's only just beginning to heal, so she's booked a stopover at Barrington Homestead on the way.
Harriet meets Drummond Murray on the road to Barrington. He's a cattle farmer and fifth generation local. Impeccable manners but not much warmth. She has no choice but to accept his assistance, but she's not keen to see him again.
In contrast, Ben Evans is a local stock and station agent, good humoured, warm and welcoming. Except Harriet isn't looking for romance and she's keen to continue her journey north. Circumstances conspire to keep her in Barrington and after months of feeling helpless, feeling needed strikes a chord.
A cast of local characters and new friendships make her wonder if this might just be her place to start over.
Love in the Ragged Mountain Ranges
Amazon Best Seller
Barrington Book Three - A novella


She swore she'd never trust again.

Buying the old courthouse near the Barrington Tops is a fresh start for Nicole and daughter Lucy.
Renovating the run-down building into a home and B & B accommodation will help them recover from the trauma they've endured.
Nik promises Lucy it will be just the two of them.
Always.
But the removal truck getting stuck in the driveway on the first day throws them into neighbour Robbie's path. He sorts the problem, then returns with son Harry to help them unload.
Nik instinctively likes him.
But she can't trust her instincts.
And more importantly, she vows to keep the promise she made to Lucy.

This novella was published in the Love in a Sunburnt Land anthology - but now available separately.
Love in a Sunburnt Land (ANTHOLOGY)
ARRA Finalist - Romance Anthology 2021
Five Aussie authors, five small town novellas, five chances for love.

Susan Mackie, Rhonda Forrest, Louise Forster, Leanne Lovegrove and Emma Powell collaborate to bring you five ripping yarns of romance, intrigue and second chances, set in various regions of Australia.
Is it possible to have a second chance at love? Will they leave their past behind, or will it follow them home?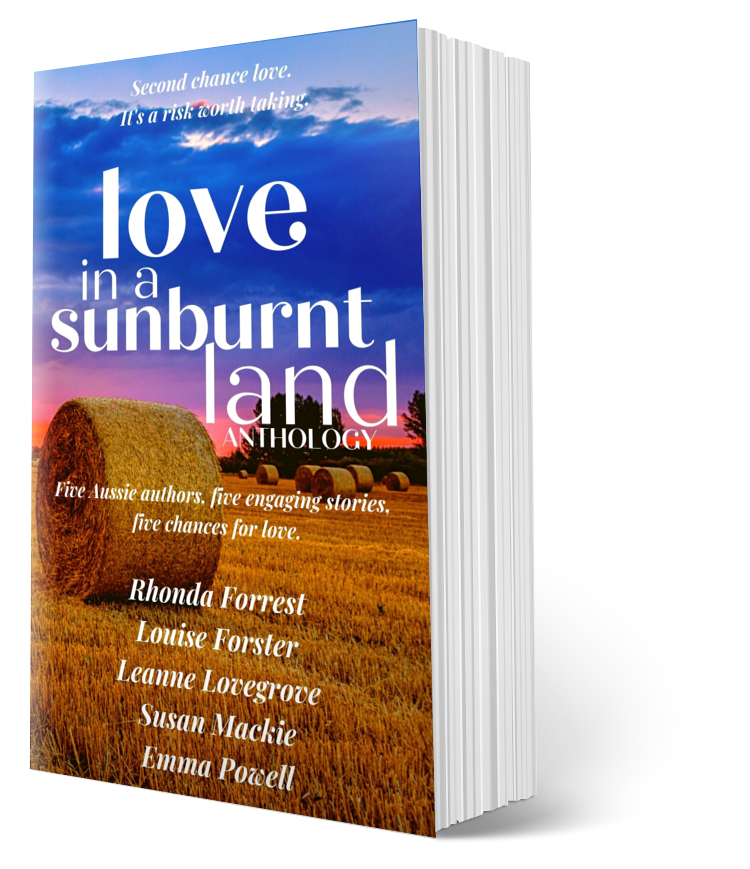 Where I write
We pulled back the carpet in my study, discovering gnarly old floorboards beneath. High ceilings have allowed the introduction of the large bookshelf, complete with ladder, which is the stuff of my childhood dreams.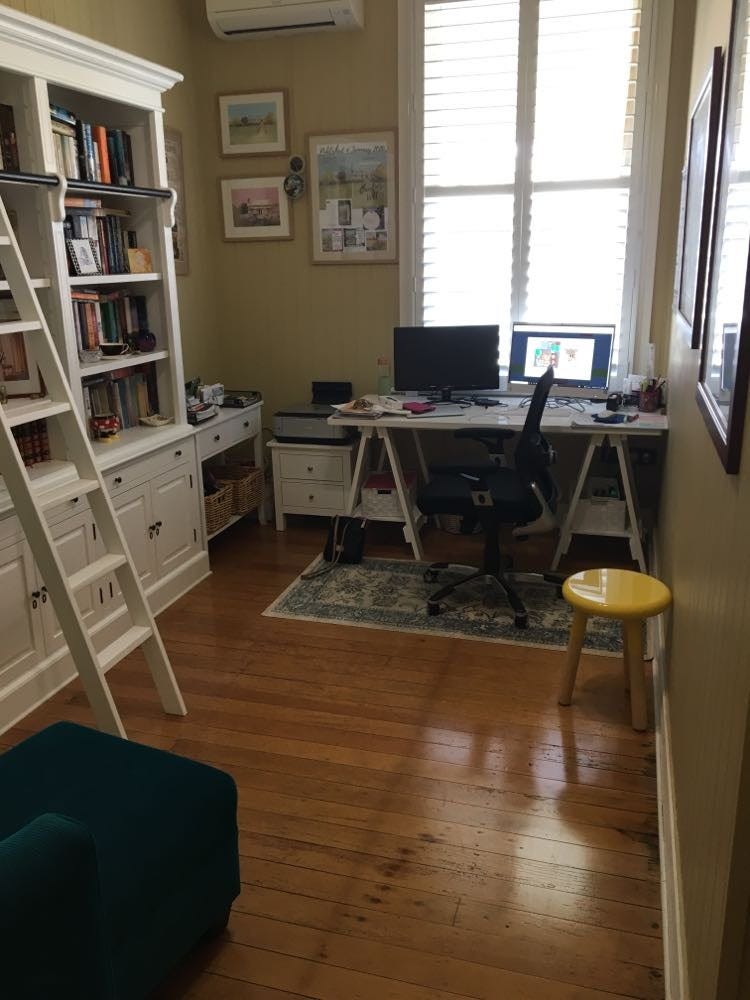 Where I live
In the historic town of Warwick, on the beautiful Southern Downs region of Queensland.
Here is a black and white version of the original watercolour artwork of my lovely 1890s home, by local artist and dear friend Fiona Hayes. You may recognise her style. She painted the watercolours for the cover of Charlie's Will and A Place to Start Over. The original paintings hang in my study.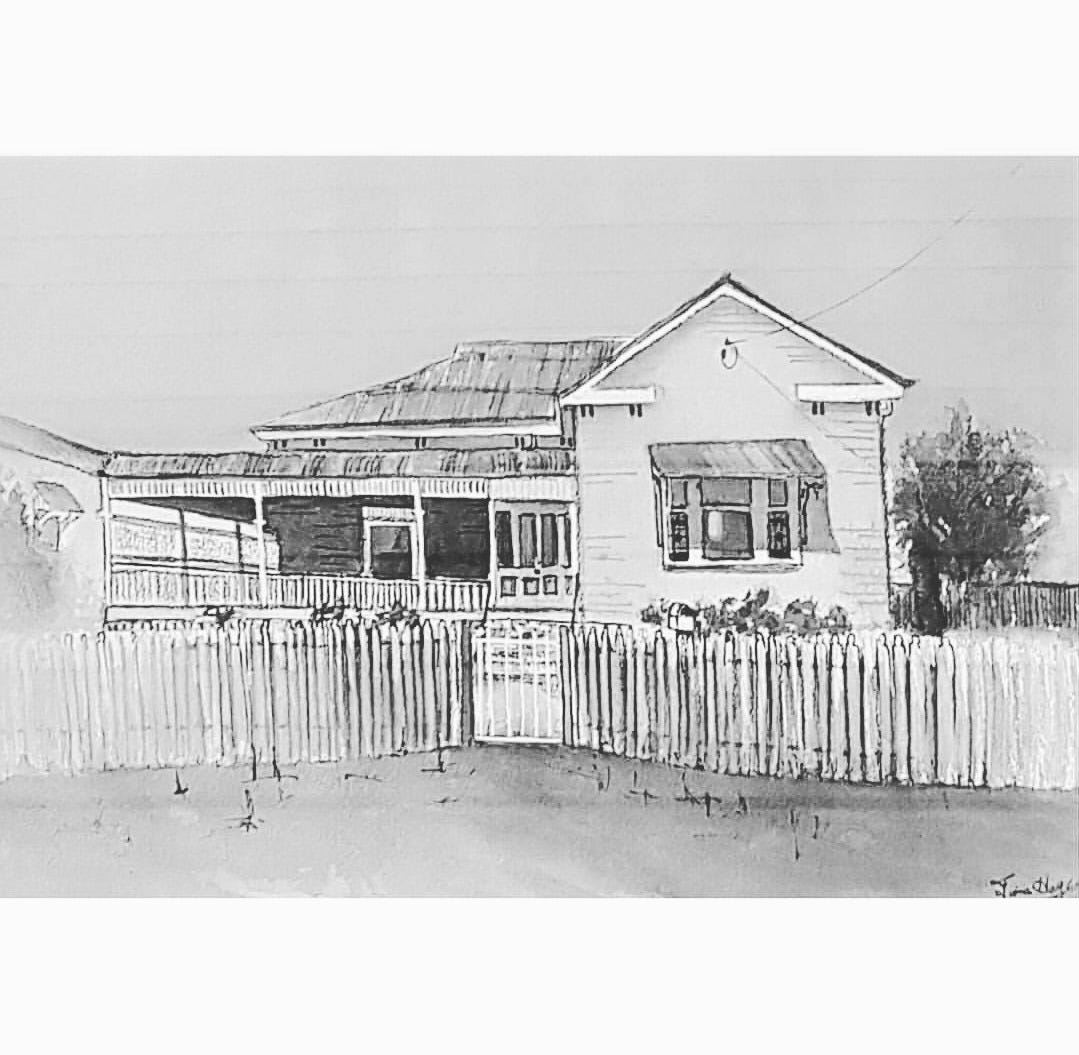 Small Town Publishing
A self-published author, I established the imprint: Small Town Publishing to manage my writing and publishing business.
Launching Charlie's Will in January 2020 saw me undergo a big learning curve - more than just writing, authors need to understand the 'business' of publishing - editing, cover design, formatting and printing, financial management, advertising and marketing, social media platforms and engaging with readers.
Fortunate to have spent my adult life running my own businesses, I found the business end of being an author less daunting than some. Collaboration with other authors, working together to support each other, sharing skills and knowledge, led me to open Small Town Publishing to authors in need of business and technical assistance.
Susan Mackie Tyrrell